49MHz Toy RF Transmitter

See our other Circuits.
This circuit was taken from a remote control tarantula transmitter operating at 49.86MHz. The schematic can also be found at the FCC web site, if you look up the FCC ID. This operates under Part 15.235 of the FCC rules and regulations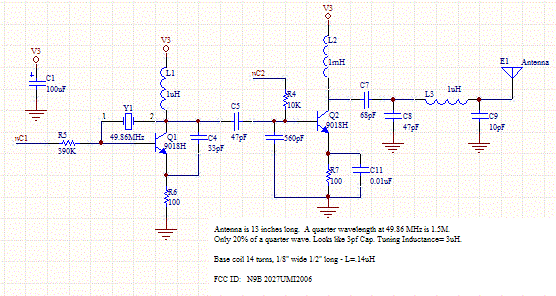 49.86MHz AM Toy Tarantula Radio Transmitter Schematic
Do you need help with an electronics design? Daycounter provides contract electronics design services. Contact us to give you a quote on your electronics design project.
[Employment] [Downloads] [Articles] [Contact Us]
Salt Lake City, UT, USA
Disclaimer: Daycounter, Inc. doesn't guarantee the accuracy of any of it's content. Use at your own risk.

© Copyright 2016 Daycounter, Inc. All rights Reserved.