Latching Momentary Switch Circuit
Momentary switches turn on only when pushed. Latching switches require a press turn turn on continuously and will toggle off with a second press. Latching switches are more complex mechanically, larger, and more expensive. The circuit below creates latching action from a momentary switch.
When the circuit is powered up, all of the transistors are off and stay off. C1 gets pulled up to Vp. When the switch is pushed, Q3 and Q2 turn on, since their base is pulled up. Q1 and Q4 are in turned on as well. Q1 keeps Q2 turned on and Q2 keeps Q3 turned on and Q3 keeps Q4 turned on. Q4 supplies current to the load. When Q2 is asserted it keeps pin 1 of SW1 at ground.
When the switch is pulled low again, the base of Q3 is tied to ground, because Q2 is on, and the chain is broken and all of the transistors turn off.
C1 and R1 and R5 form the time constant for the debounce circuit. Adjust these values for an appropriate debounce time.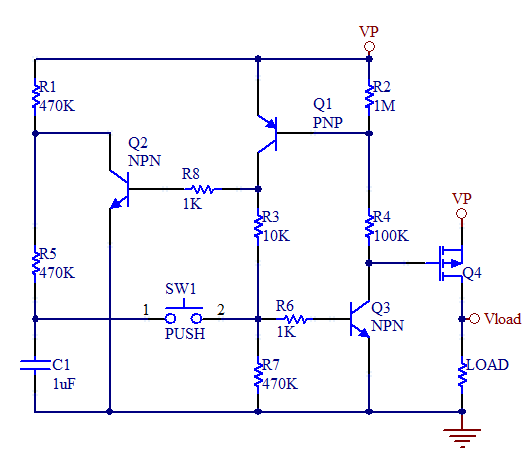 Latching Momentary Switch Circuit