Joule Thief

See our other Circuits.
This circuit is useful for driving LEDs with a single AAA cell. The transformer steps up the Voltage. The transistor turns on because the base is pulled up. However, when it turns on it produces a negative current on the base, which turns it off causing oscillations which are in the range of 50KHz.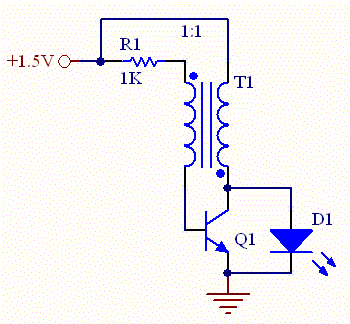 Joule Thief Schematic
Do you need help with an electronics design? Daycounter provides contract electronics design services. Contact us to give you a quote on your electronics design project.
[Employment] [Downloads] [Articles] [Contact Us]
Salt Lake City, UT, USA
Disclaimer: Daycounter, Inc. doesn't guarantee the accuracy of any of it's content. Use at your own risk.

© Copyright 2016 Daycounter, Inc. All rights Reserved.