Inverse Voltage Control

See our other Circuits.
This circuit creates a voltage inversely proportional to a variable resistance.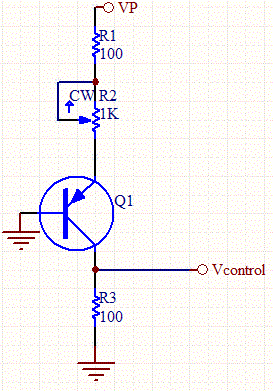 The PNP transistor is turned on to saturation. So the voltage through the collector is:
IR1= (VP-VBE)/(R1+R2)
VControl= R3(VP-VBE)/(R1+R2)
Do you need help with an electronics design? Daycounter provides contract electronics design services. Contact us to give you a quote on your electronics design project.
[Employment] [Downloads] [Articles] [Contact Us]
Salt Lake City, UT, USA
Disclaimer: Daycounter, Inc. doesn't guarantee the accuracy of any of it's content. Use at your own risk.

© Copyright 2016 Daycounter, Inc. All rights Reserved.