JFET Buffer Bias Calculator

See our other Electronics Calculators.
A JFET buffer (Common Drain Amplifier) is useful in that it has extremely high input resistance as compared to a BJT buffer. The input resistance is equal to RG, which is typically very large, on the order of 1M ohm.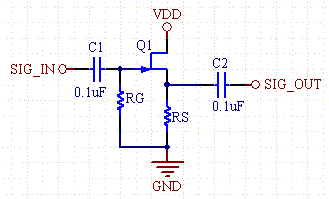 Figure 1 - N-Channel JFET Buffer
Equations:
IDS= IDSS(1-VGS/Vp)2
RS= VRS/IDS
Daycounter provides contract engineering services. Please contact us if you would like a quote to out-source your next engineering project.
[Employment] [Downloads] [Articles] [Contact Us]
Salt Lake City, UT, USA
Disclaimer: Daycounter, Inc. doesn't guarantee the accuracy of any of it's content. Use at your own risk.

© Copyright 2016 Daycounter, Inc. All rights Reserved.